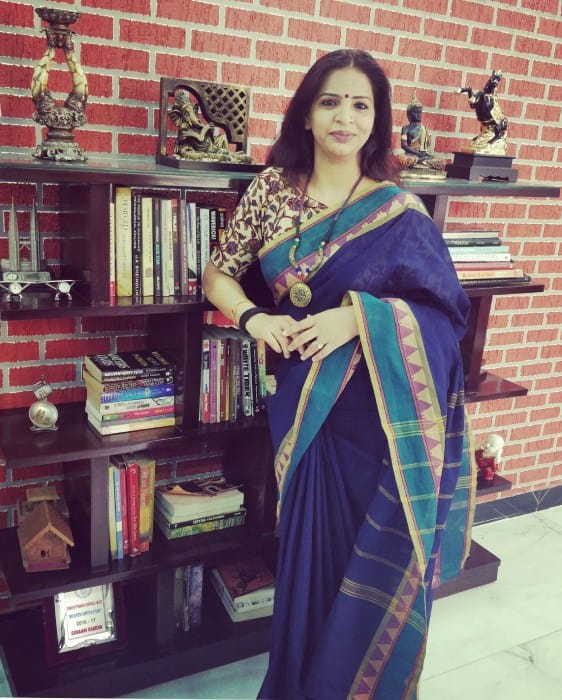 Hi! I am Vandana Saxena. By passion, I am a writer, blogger,  and a storyteller. I love to create and tell stories. I strongly believe that every moment, every hour, every day, we create and share stories. 
A copywriter tells a story about "what is in it for you", a newspaper tells stories about what's happening in the world, a white paper tells the story of an organization and its endeavours, a thesis tells a story about the hypothesis, and we even unknowingly keep telling stories whenever we talk. You are reading a story now 😊
Stories are an integral part of our life. In my blog, I pen stories that I have lived, experienced, felt, visualized, and imagined so far. Stream with Vandana's Pen and get your daily dose of good reads.    
Professionally, I am a Certified Content Writer, Soft Skills Trainer, and an HR Professional. Breaking the barriers, I rediscovered myself after living for 40 years.  I realized that "It is never too late to become what you might have been."  Hence, I started to follow my passion for writing.  
Driven by my passion I have created numerous stories, articles and a handful of poems that are being published on various digital media platforms.
I am presently a contributing author at Women's Web and a freelance blogger at Momspresso with about 10 million views on my blog.  In addition, I unleash my creative self on Penmancy and Asian Literary Society.  You may read a few poems, fictional stories, and mini tales which are being published here. 
Before I could realize, my passion brought me a few awards and accolades for my writing skills.  I have also won numerous writing challenges.  Take a look at the Snapshot as I share my happy moments with you.
Following "Sharing Is Caring", I love to share my learnings in the various training and workshops.  Other than Corporates, these training sessions and workshops are highly useful for aspiring entrepreneurs. 
In addition, women who choose to follow their passion and aspire to build their brand in the digital world can be truly benefitted from the Workshops.  These workshops are tailor-made for women entrepreneurs, keeping in mind their specific niche and target audience.  
Since I am professionally qualified in Digital Content Writing, reach out to me for Content Writing Services in any genre.  I feel delighted to help any aspiring entrepreneur whose business is driven by his/her passion.   I would love to see your brand shout aloud in the digital world.  
In my professional career of 21 years in the domain of Human Resource Management and Administration, I have worked with industries like mechanical, telecom, retail and Credit Management. I am presently associated with Unified Credit Solutions (part-time) for the past 13 years as Head – Admin & HR.  I have been a Soft-Skills Trainer for a substantial period during my professional journey.
Stay tuned to this portal as I share my creative side, experiences, views, and intellect, to amuse you while creating stories and more…. 
Follow Me @ Facebook, Instagram, LinkedIn, Twitter