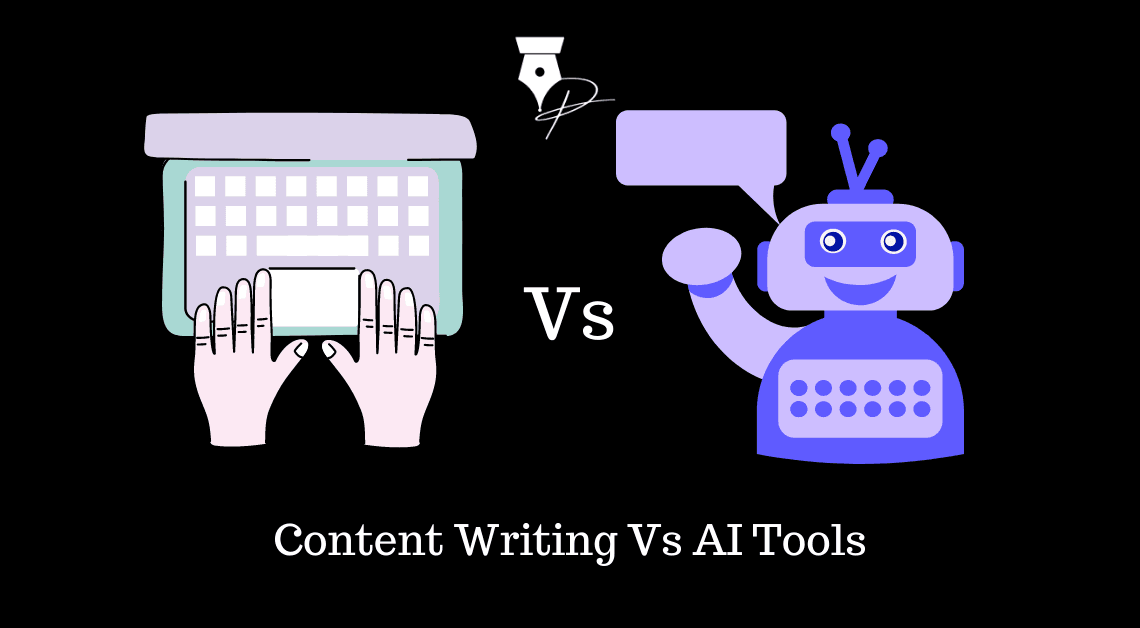 Content Writing Skills Vs AI Tools
Why should I learn writing when so many Artificial Intelligence or AI tools can assist me in writing any content within seconds? What's the use of investing money in the writing course? I instead subscribe to the AI tool. You must have encountered many such questions and convinced yourself that learning writing skills is now futile; expertise isn't required.
Wait! Let me explain why you must learn writing and what AI tools cannot do for you. While AI tools for writing have certainly advanced in recent years, there are still several reasons why learning Content Writing is imperative for you as a writer if you wish to skyrocket your writing career:
Creativity Is Equal to Originality 
If you wish to play a long inning in the industry, you must maintain 'originality' in your content. While the internet is flooded with content in every niche, what sets you apart is your creativity, that's always original. For example, if I show one picture to ten people and ask them to caption it, I will get ten different captions for the same picture because we don't think the same way. Penning your ideas will always boost your cognitive thinking; you will never run short of ideas. AI tools may be proficient at generating text based on existing data but lack the creative flair that compels readers to resonate with your expressions.
Only Humans Can Set the Context Right 
Developing great content requires an analytical approach and a deep understanding of the various aspects like target audience, tone, writing style, and point of view, along with the context to ensure the target audience consumes the content. Unfortunately, AI tools may be unable to set the context aligned with the demographics and psychographics of the desired target audience. While humans can feel and express emotions in words, AI only struggles to comprehend the nuances of a specific industry, niche, or cultural reference.
Easy Adaptability to Change
The content industry is ever-evolving, and the trends change every day while algorithms are beyond control. Consistent writing upgrades your skill to adapt to change and reshape or repurpose your content to align with the trends and your client's needs. AI typically operates within the boundaries of pre-defined rules and data. However, real-life situations often require improvisation, thinking outside the box and adapting to unexpected responses and feedback. Content Writers often develop analytical skills while synthesising information; writers write content blended with knowledge and experience, meeting the specific requirements of various clients and projects.
Improved Language Skills
Writing is an art, not an off-shelf product that one can buy, plug, and play to their requirements and need.  Art is meant to be learnt. When you write yourself, you struggle to find words, but the struggle ends with discovering the right word, a word that expresses your idea best, and you learn it for life. You learn to write powerful words and, thus, impressive sentences. You become a better writer after consistently writing for months or weeks. Trust me; there is no looking back. Writing is the only skill that cannot be unlearnt, come what may.  The more you write, the better your hold on language is. Unfortunately, AI doesn't let you think about the language; therefore, you don't learn or get better.
Editing and Quality Control
When you get better at language, editing your content is easier, and the quality is in your control. Though the AI tools can assist you with grammar and spelling checks, only a human eye is sharp enough to delete redundancy, fix ambiguity, erase subtle errors, and detect inconsistency in the content. Also, learning writing skills equips you with the expertise to refine and polish your work to produce exceptional quality, even if you use the tool. When your brain works, you realise that Artificial Intelligence can never supersede Human Intelligence.
While AI tools can curate ideas or draw content outlines, learning content writing boosts your creativity, contextual understanding, adaptability, language skills, and editing expertise to produce high-quality, tailor-made content for various clients and their specific requirements. These aspects are crucial for producing impactful content that connects with readers and engages them too.  Hence, AI tools can be a writing aid, but you must learn writing skills to be an exceptional content writer.  It will be a great idea to join a content writing workshop, hone your writing skills, and shift gears towards a long and steady career as a content writer.