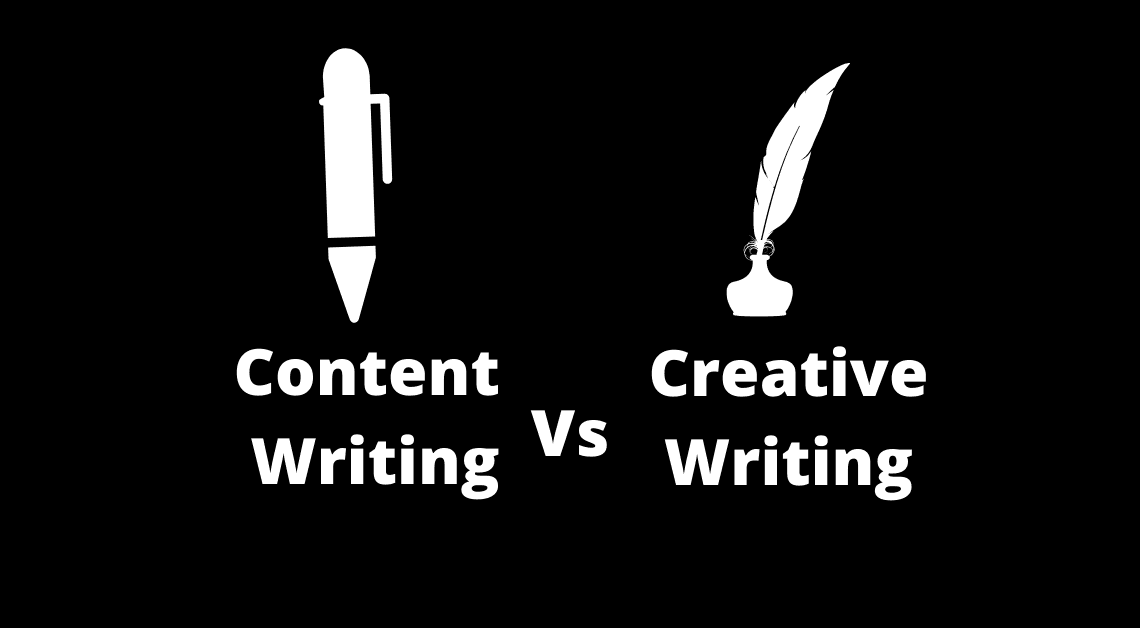 If you are a writer, you often come across the tiff between your creativity and the purpose of writing. At times, you may have to gulp your creative juices to let your content fit into your clients' requirements. Hence, you must know the following five basic differences between content writing and creative writing to shape your write-up well.  The learning will ensure that you nail your content in the first attempt. However, you must follow the writing process and never publish your first draft.
Content Writing Vs Creative Writing
Content Writing is the readers' perspective since you always decide on a target audience before writing any content format. The language, tone, writing style, or readability is consistently maintained to serve the purpose of the audience. You may write content to share information or knowledge, but you never forget about your audience and their pursuit of reading, as you write. 
On the contrary, Creative Writing is the writers' perspective since it's the writer's imagination weaved through words to commemorate or create. So, a creative writer shouldn't think about the reader but express their imagination in words.  So, here, you only share your experience or creativity with the reader.   
Purpose of Content Writing Vs Creative Writing 
Content must be written to communicate with the reader so that reader decodes your message right, without any ambiguity. 
Creative writing is all about creating visuals in the readers' minds. You must have imagined a movie playing in your mind while reading a story. That's what I exactly mean by "creating visuals in readers' minds." 
Difference In Language
In content, you write simple language with crisp, clear, and catchy sentences to let the reader understand. In other words, content writing is straightforward, sticking to the point without any unwanted descriptions.  
In Creative Writing, you may use flowery words and descriptions to help the reader imagine your imagination. In some cases, it is acceptable to 'Show and Not Tell', especially while writing stories, but remember, too few or too many descriptions only add to the weight of the write-up and not value.   You may make use of literary devices too.
Tones and Writing Styles to Choose
A formal or semi-formal tone looks perfect while writing content. However, you choose no more than two writing styles in one write-up. Keep your tone and writing style consistent throughout the content to maintain language consistency. 
Creativity comes in all styles; primarily, Descriptive and Narrative writing styles are recommended in Creative Writing since visuals need descriptions and narrations. The tone may vary depending on the direction of the write-up. In creative writing, maintaining a single tone may not be possible. 
Forms of Writing
There are more than thirty forms of content that one may learn to write. However, Articles, Blogs, Web Content, SEO Content, Newsletters, Proposals, Statements of Purpose, Press Releases, Technical Content, Copywriting, Grant Writing, etc., are the most popular and demanded forms of content in the writing industry. 
Creative writing primarily includes stories and poetry, yet blogs, copywriting, product descriptions, or any other promotional content may require creativity to some extent.  
Is Creative Writing Not Required for Content?
While you are supposed to create engaging content, a lot of creativity is required for your content to sail in the digital ocean.  Since the content industry has evolved with massive digitization, the storytelling technique is widely used to connect with readers.  The content industry swears by power-writing rules along with storytelling to ensure that creativity is blended well with the content. You must be creative and original while writing content, but a little essence of creativity attracts the reader well. 
As you understand the difference between Content Writing and Creative Writing, you may pick up your pen once again and write with precision. 
Do not forget to leave a comment on this post. Also, if you have any questions, feel free to post in the comment box. 
Stay tuned for more writing tips!